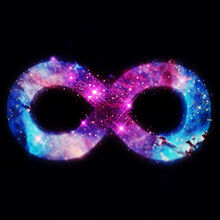 Infinite World is a world of undying Demons, Angels, Dragons, Fairies, Dinosaurs, and even weapons. Infinite World was created by Billy92899.
Play Styles
The Infinity Dragons are dragons who are unable to be destroyed by effects of the opponent's cards, which in turn makes most of them unable to be called to the center. They also have the ability "Direct Hit" which allows them to attack the opponent directly, even if a monster occupies their center.
The Infinity Demons are very powerful monsters which require lots of gauge. However, there are many spells to help with this, that can either gauge many cards, or reduce the call costs of Infinity Demons.
The Infinity Weapons have the ability "Betrayal" which makes it so that when they destroy an opponents monster, damage equal to the critical of the monster destroyed is dealt to the opponent.
The Immortal Knights are the human inhabitants of Infinite World. They revolve around being "Immortal", and when they would be destroyed, depending on how powerful the monster is, you can pay either 1 or 2 gauge to prevent their destruction.
The Infinity Fairies are low powered monsters that Move from your hand to either your drop zone, your gauge, or the bottom of your deck, and have effects that activate when either they or another card does so.
The Infinity Angels revolve around gaining life through various methods, with one series of cards that involves paying life to use abilities.
The Infinity Dinos involve cards that use discarding to fuel their powerful abilities, as well as cards that have abilities that activate when they are discarded.
In all cases, The monsters of Infinite World are all very powerful in their own ways, whether that means staying on the field, keeping the player alive, or slamming the opponent with massive power and critical. The inhabitants of Infinite World should not be taken lightly.
Attributes
Archetypes
Sets containing Infinite World
List of Infinite World Cards
Flags
Items
Infinity

Spells
Immortal Knights

Infinity

Infinity Demons

Infinity Angels

Infinity Dragons

Infinity Fairies

Fairy Return
Shining Light
Infinity Dinos

Impacts
Immortal Knights

Infinity

Infinity Demons

Infinity Angels

Infinity Dragons

Infinity Fairies

Infinity Dinos

Monsters
Size 0
Infinity Demons

Infinity Angels

Infinity Fairies

Infinity Dinos

Infinity

Size 1
Immortal Knights

Infinity Demons

Infinity Angels

Infinity

Infinity Dragons

Infinity Fairies

Infinity Dinos

Size 2
Immortal Knights

Infinity

Infinity Demons

Infinity Angels

Infinity Dragons

Infinity Fairies

Infinity Dinos

Size 3
Immortal Knights

Infinity Demons

Infinity Angels

Infinity Dragons

Infinity Fairies

Infinity Dinos

Infinity